03 Oct

Compostable packaging, the new challenge of food industry

Today also Ma-Vi trade has the possibility to offer an innovative eco-friendly packaging solution, completely degradable for the packaging of grated cheeses.
The European strategy against plastic
Last December, the European Parliament finally adopted a new directive aimed at drastically reducing marine pollution and single-use plastics.
By 2021, Member States will be prohibited from using a series of plastic items that alone account for 70% of marine waste.
Moreover, the new regulation establishes that by 2025, 25% of the plastic bottles will have to be composed from recycled materials and this will rise to 30% by 2030.
Source: Single-use plastics: New EU rules to reduce marine litter
Plastic and pollution
Plastic decomposes slowly by accumulating in the seas, oceans and beaches of Europe and the world. A lot of microplastics are found in marine species and consequently in the human food chain.
The aim should be support safer and more sustainable consumption and production models.
Francois De Bie, President of European Bioplastic, confirmed the need to move from a linear economy to a circular one. In this transition, certified compostable plastics provide a viable solution.
These materials were of great interest also during the 13th European Bioplastics Conference held last December in Berlin.
Ultimately, the intense discussion on the future of plastics is creating many opportunities to facilitate the transition to the use of more sustainable materials.
Many solutions for sustainable packaging
Food is a fundamental part of our lives.
It is so important that today our eating habits have changed considerably: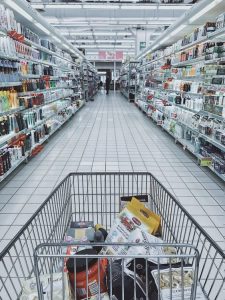 We increasingly choose organic or zero km food

We promote seasonal consumption

We support small production companies
Nevertheless, on the shelves, we find products wrapped in additional packaging and difficult to recycle.
One solution could be the so-called compostable packaging, a new type of packaging which is decidedly more eco-sustainable than plastic.
This type of packaging uses the latest scientific technologies developed in the field of materials processing and food waste, to obtain biocompatible plastic coatings
For example, many are produced from food industry waste (such as peel / tomato peel or legume / tubers discart).
These vegetable raw materials are processes to obtain a biodegradable bioplastic that unlike traditional plastic does not pollute, respecting the environment.
Currently, bioplastics represent only about 1% of the plastics produced each year in Europe (about 300 million tons). However, demand is increasing and the market is growing rapidly with sophisticated materials, application and emerging product
Source: https://agfundernews.com/25-startups-innovating-with-sustainable-packaging-solutions.html
New compostable film for MAP packaging
Ma-Vi trade has always been careful to environmental and innovation issues, so it has invested energy and resources in order to propose a new range of packaging, best suited to the needs of its customers in terms of sustainability, shelf life and safety.
Thanks to the shared commitment with our leading partner in the packaging of grated cheeses in Treviso, we can now add to our proposals a new line of grated Grana Padano cheese dressed with the innovative:
COMPOSTABLE film for MAP barrier, OK COMPOST INDUSTRIAL certificate
It is an innovative packaging, recyclable as wet waste, which does not leave its mark in its end of life.
An eco-friendly solution that represents added value in terms of communication to the final consumer for a market that demands more and more attention to the environment.
The film, produced by the company SDR PACK, has obtained the OK COMPOST INDUSTRIAL certification according to EN 13432 and has undergone numerous shelf life tests to ensure its safety.
All the tests carried out were successful, allowing us to present the new range of grated cheeses with a guaranteed shelf life of 120 days.
A perfect example of how packaging can represent a benefit in the choice of the product and enhance it by sharing its values and strengthening its communication.
Watch the video and find out what happens to the compostable film once it is used and placed in an industrial composting plant.
Our future and the mission to reduce plastic consumption
Our work never stop.
The next challenge is the acquisition of the skin vacuum packaging system with cardboard support for our portioned cheeses.
It is a packaging model developed by Sealed Air and G. Mondini that received the 2018 World Dairy Innovation Award in the category Best Manufacturing & Innovation Process.
This packaging model uses an innovative and patented technology that eliminates the waste of film by increasing productivity.
Since the flat support is less bulky than the trays normally used in modified atmosphere packaging (MAP) this system considerably reduce transport and storage space by up to 80% and allows the final consumer to dispose of the material responsibly and to recycle the cardboard easily.
Moreover, conservation is extended, potentially allowing Retail to reduce food waste.
In the pictures, the first prototypes of our cheeses packaged with the vacuum packaging system Cryovac Darfresh.