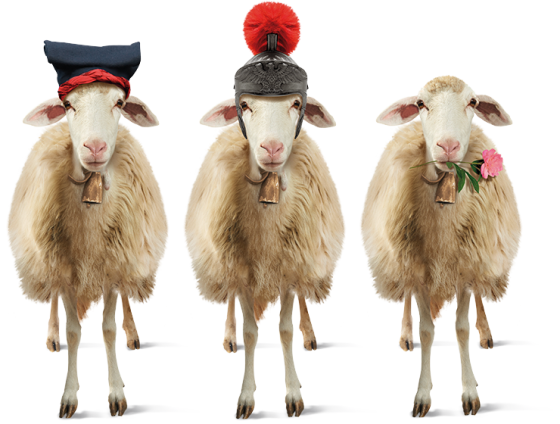 17 Jul

Good reasons to eat PECORINO cheese

In recent years the pecorino cheeses are getting more appreciated and their consumption increased. But what makes pecorino so special? Let's see what the secret of this extraordinary cheese is.

Pecora means sheep in Italian and "pecorino" is a hard-ripening cheese made from fresh full-fat ewe's milk. It is one of the most ancient cheeses on the world and the Lazio region is considered its homeland, but you must know that, despite of the name, about 90% Pecorino Romano's processing takes place in Sardinia, and not in Rome! Today pecorino is produced all around Italy, especially in Sardinia, Tuscany and Sicily. It has an unmistakable taste and aroma who smells of Italian pastures kissed by the sun and caressed by the sea breeze.
Countless flavors and tastes of Italian Pecorino
There are different variants of pecorino, which differ in production technique, size, aging and organoleptic characteristics. The main varieties are:
Roman (Pecorino Romano)
Tuscan (Pecorino Toscano)
Sardinian (Pecorino Sardo)
Sicilian (Pecorino Siciliano)
What does pecorino cheese taste like? Each has its own, unique taste: pecorino Romano – a distinct aroma and spicy taste, Sardinian floral and nutty flavor, Sicilian is often eaten fresh, while the Tuscan is known for its sweet taste and a milky fragrance when fresh and more intense and structured aroma when aged.  During production, sometimes various ingredients can be added to the cheese: fresh herbs, spicy chilli peppers, black pepper, peppercorns, nuts, or other more exclusive additions like pistachios, truffle, saffron, red wine and even grappa.
Cheese maturing
The secret of pecorino is in its traditional methods of production and aging. It consists in the centuries-old tradition of production based on the experience of cheesemakers and in the quality of fresh milk that comes from sheep raised in the wild and fed on natural pastures. Mild climate, light scirocco wind, warm sun, fresh herbs and flowers make sheep's milk of high qualitative value and give personality to the cheese. Moreover, an exclusive aging in the natural tufa caves or ditch-like caves gives to these cheeses a rare value in its organoleptic, olfactory and gustatory characteristics.
There are no industrial processes in pecorino cheesemaking, no feedstuffs or pasteurized milk, no common taste. There are only "extraordinary sheep" and "extraordinary men" who make "extraordinary cheeses" in respect for the nature and for the environment.
Did you know that the sheep produces about 150 liters of milk a year, as much as the cow in a week? This could explain why it costs more than other cheese.
Pecorino cheese: source of energy, easy to digest, less colestorol, lactose free!
Is sheep cheese good for you? Sheep's milk is much more nutritious than cow's or goat's milk; it is the milk with the highest concentration of useful proteins for those who want to create a good muscle mass. Although it contains a high level of butterfat, it contains less saturated fat than cow's milk or goat's milk. Fats in sheep's milk are mono-unsaturated and polyunsaturated, both "essential" fats good for our body. Sheep's milk also contains numerous medium-chain triglycerides that help the body reduce cholesterol levels.
Sheep's milk has a lower amount of lactose than cow's milk, making it a particularly useful milk for all those with lactose intolerance. A recent study showed that there is almost no lactose in medium- and long-matured cheeses as it is the chosen fermentation substrate for the lactic bacteria, during the milk transformation process and also during the ripening of the cheese.
(source: https://www.pecorinotoscanodop.it/en/tips/intolerances/
Prof. Gavino Sanna from Department of Chemistry and Pharmacy at University of Sassari confirm that, the absence of lactose is a natural consequence of Pecorino Romano cheesemaking process. It contains galactose in quantities below 2,7 mg/kg) and can be safely consumed by people affected by galactosemia (being galactose-free) or lactose intolerance (being lactose-free).
(source: "A new GC-FID method for the determination of main saccharides in milk and its application to verify the "lactose free" condition in different dairy foodstuffs")
Sheep's milk is naturally rich in magnesium and calcium which helps keep bones healthy and strong. Sheep cheese contains good amounts of vitamin D useful in optimizing calcium and phosphorus metabolism, and helps prevent type 2 diabetes, insulin resistance, hypertension, heart attack, congestive heart failure and stroke. Furthermore, it is rich in vitamin A and vitamin E with great antioxidant power.
Guaranted quality : Protected Designation of Origin (P.D.O.) for Pecorino cheese
In Italy, there are 8 pecorino cheeses which have Protected Designation of Origin (P.D.O.) status recognized by the European Union which certifies the highest quality guaranteed by their territory of origin. The P.D.O. label protects them also from imitations and counterfeits and guarantees the purchase of a local, authentic product. How to recognize it? In order to provide the means for its unmistakable identification each Consortium for the protection of pecorino cheese has devised a particular labelling system. Every cheese wheel is branded with the designation and its logo, the initials of the producer and the date of production:
A diamond with rounded corners, containing the stylised head of a sheep is the collective logo that identifies the Pecorino Romano P.D.O.
A green mark for Pecorino Sardo Dolce (sweet), a blue mark for Pecorino Sardo Maturo (aged)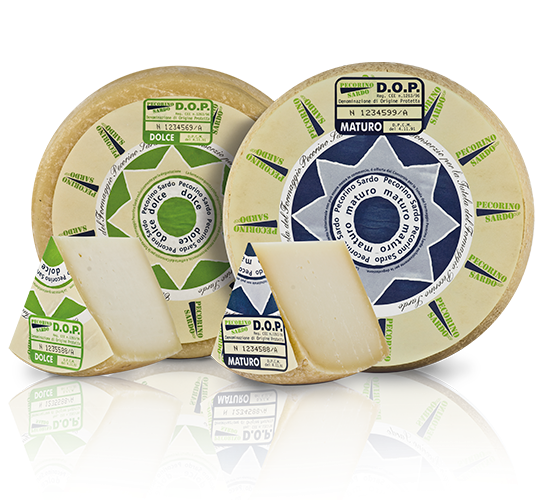 Pecorino Toscano PDO cheese has two logos: one to be applied in ink on the moulds or on the portion packaging and the second one to be placed on the labels
For the Pecorino Siciliano PDO the casein matrix must bear the inscription "Pecorino Siciliano D.O.P." and the identification number of the matrix. Inside the oval is the image of the Trinacria. Moreover, the aged cheese bears the logo imprinted fire branded. Each package of cheese has a red crown-shaped label with the identifying logo with the words Pecorino Siciliano DOP. Inside the logo, in the upper part of the circle with a white background, one is depicted stylized sheep's head of black color.
How to taste Pecorino?
In the kitchen, pecorino cheeses can be enjoyed in various ways during all day start from quick lunch, snacks, outdoor trips to dinner with friends. Based on the period of aging – which can last from two weeks to over a year- you can find different types of pecorino: fresh (fresco) and aged semistagionato or stagionato (maturo) with more distinct and spicy taste.
Fresh pecorino can be considered table cheeses and can be served by itself with a slice of fresh bread or as an appetizer together with cold cuts; when aged it is used grated or flaked as an ingredient to enrich the taste of many traditional Italian dishes such as pasta, soups, sauces, salads, risottos and pizza. Pecorino Romano, in particular, is an excellent condiment for pesto. Among the most delicious combinations you can find onion compote, figs, mustard, honey, walnuts and olives. But the best accompaniment to pecorino cheeses is a glass of good white or red wine. Fresh cheese pairs well with dry white wine like Vermentino, whilst the aged cheese goes well with more structured red wines: Cannonau di Sardegna or Brunello di Montalcino.
Do you know for which famous recipe pecorino cheese is used for? See with us how to cook the perfect Spaghetti Carbonara in this one and only authentic Italian recipe which requires Pecorino Romano cheese and guanciale for the preparation:
Spaghetti Carbonara – recipe with grated Pecorino Romano PDO
Ingredients (for 4 servings):
14.10 oz of spaghetti
4 yolks (one for each one)
7.05 oz of guanciale
2.80 oz of Pecorino Romano grated cheese
2 tbsp of extra virgin olive oil
salt and pepper
Preparation
Start putting to heat the pot with the water and the salt for the pasta. In a large pan, brown the guanciale with the two tablespoons of oil and when it is crispy, turn off the heat. Separately, in a large bowl (which must then contain the spaghetti), beat the egg yolks with Pecorino Romano and a pinch of salt. When the spaghetti is cooked al dente, drain them leaving them rather moist and pour them into the bowl with the egg; add the pancetta and a pinch of black pepper. Mix well to make the egg thicken and serve immediately hot.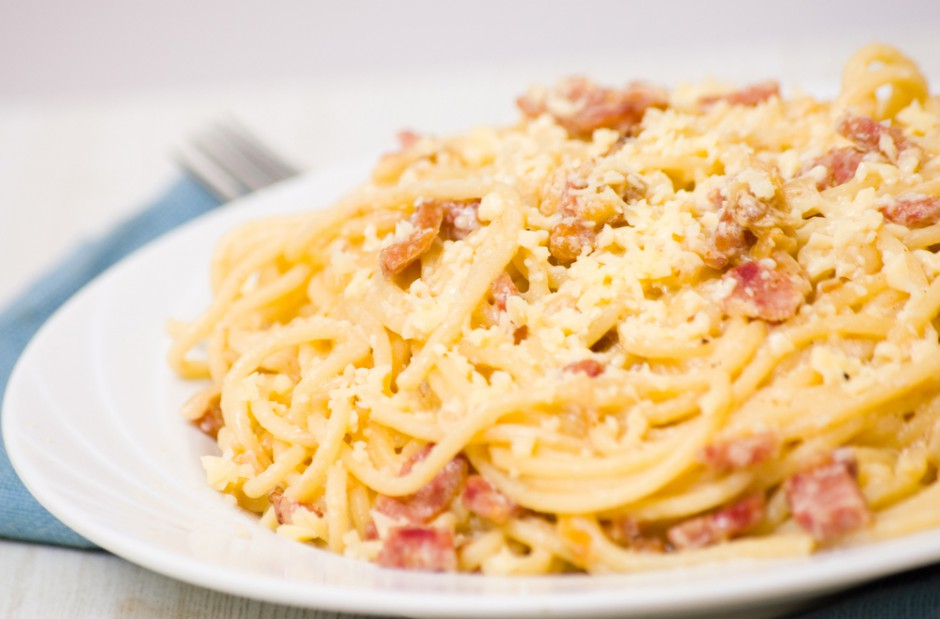 (source: https://www.pecorinoromano.com/en/recipes/pasta-carbonara)
If it has whetted your appetite, come and discover our range of traditional pecorino cheeses and flavoured sheep cheeses with pears, figs, honey, DOCG Chianti wine, grappa, black peppers or with Pistachio Verde di Bronte PDO. If this is not enough for you, we can propose also cheeses aged under juniper berries, marc, black pepper, walnut leaves, olive leaves or hay. Please do not hesitate to contact us to receive more information on our unique line of pecorino cheeses.